February 18, 2022, Shanghai, HongKong Winhealth Pharma Group Co. Limited. (Hereinafter referred to as "Winhealth")and Ajinomoto Cambrooke, Lnc. (Hereinafter referred to as "Ajinomoto") officially signed a strategic cooperation agreement. Winhealth will be exclusively distribute Ajinomoto CambrookeTM amino acid formula powder products on JD.com through China's cross-border e-commerce.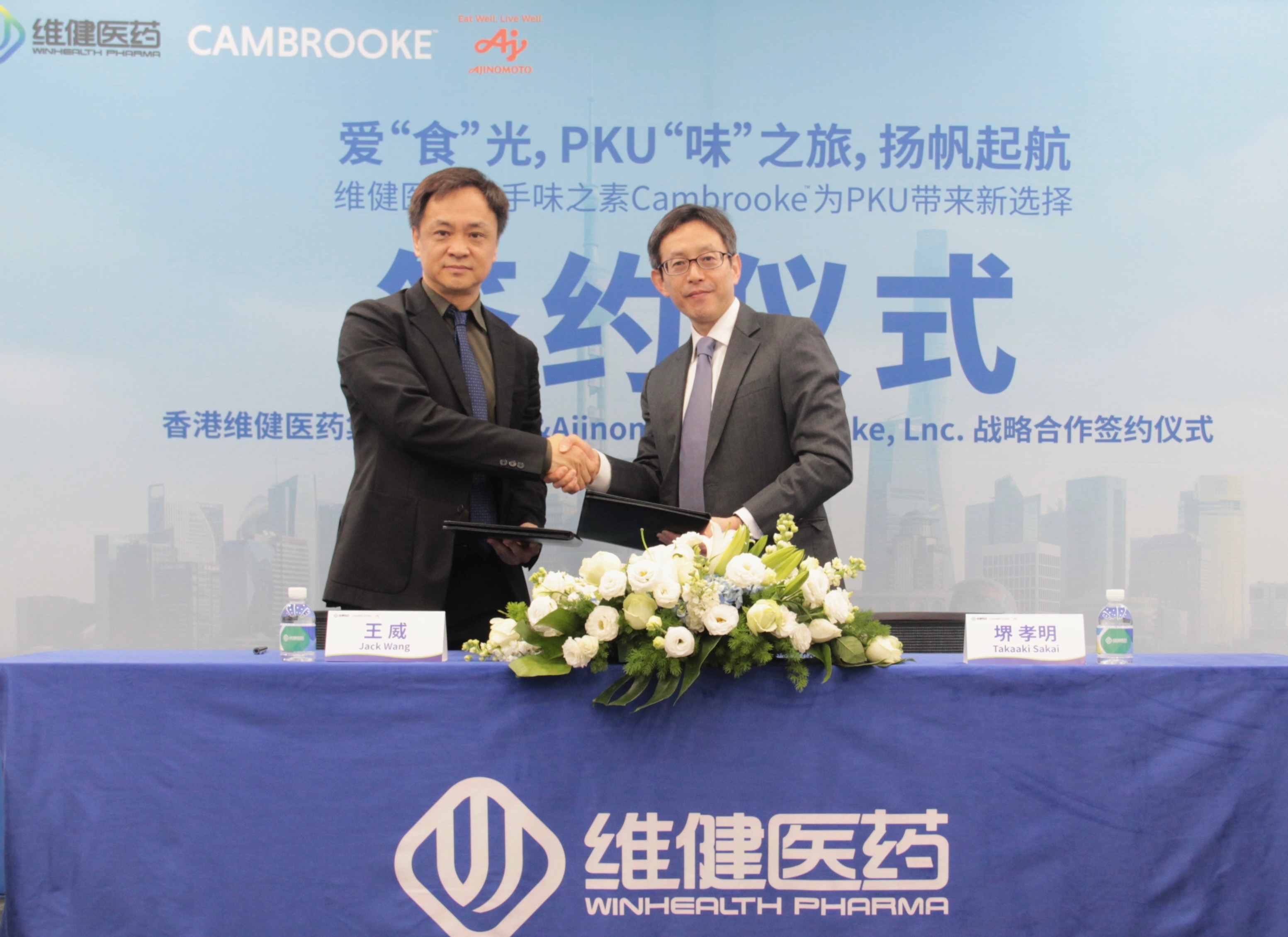 Winhealth Founder/Chairman/CEO Jack Wang, CambrookeTM Founder David Paolella, Winhealth Co-CEO Oliver Hao, and CambrookeTM CEO Howard delivered speeches at the signing ceremony. The strategic cooperation between the two companies will bring better nutritional choices to Chinese PKU patients.
Winhealth Founder/Chairman/CEO Jack Wang:
"There are so many children and adults in China that suffer from the disease called inborn errors of protein metabolism, PKU. People with PKU must rely on a specialized replacement protein because the amino acids in protein are toxic to their brain, and they need to take this replacement for a life long. Winhealth has 16 years of development history, starting from Phenylketonuria(PKU)pilot in Hainan, will continue to develop the Winhealth business in the food field. We hope to cooperate with Ajinomoto on more products future than Phenylketonuria through this contract. Together we will integrate the resource advantages of both sides and make Ajinomoto CambrookeTM products enter the Chinese market to bring better nutritious and taste replacement food."
CambrookeTM Founder David Paolella:
" Why we in forming CambrookeTM was simple- to develop improved nutritional therapeutic options for those with serious medical disorders. In addition, so that both large and small patient populations are important when it comes to complex nutritional requirements,we aim to provide nutritional support to more families. CambrookeTM and Winhealth are both committed to making patients' lives better.This cooperation shows us the nature of the value created. We will do our best and look forward to working with Winhealth in the future to provide better solutions for Chinese patients."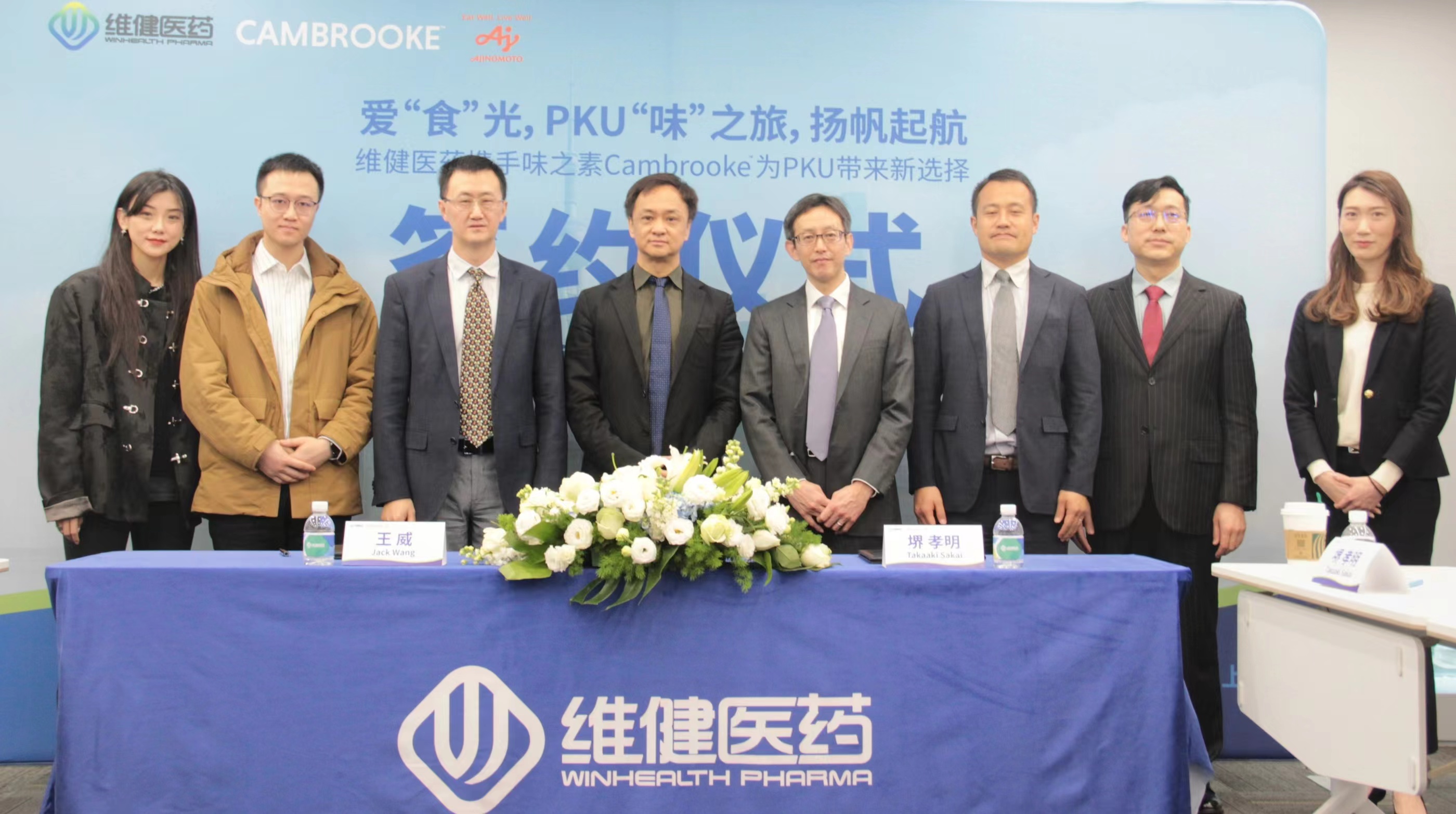 Winhealth Co-CEO Oliver Hao and CambrookeTM CEO Howard have given their best luck to this cooperation. "Life is hard for people who live with PKU. But, together, we will make many lives better. We are looking forward to a long, happy, and prosperous relationship for us all."
In the next five years,Winhealth will be the exclusive distributor of Ajinomoto CambrookeTM on JD.com. The signing marks the beginning of a closer and mutually beneficial partnership between CambrookeTM and Ajinomoto in the field of rare diseases. In market coverage, channel development and other aspects can integrate the advantages of both sides of resources so that benefit more patients.
About Winhealth
Hong Kong Winhealth Pharma Group is a China-based, global innovative biomedical company founded in 2006, providing novel breakthrough therapies to patients with rare diseases and other unmet medical needs. The Group has established a long-term strategic partnership with dozens of world-leading biotechnology companies. It has built a unique, balanced, and diversified portfolio with numerous orphan drugs and specialty products at commercial and late clinical stages, and will continuously look to bring in more innovative therapies from the globe. For more information, please visit http://www.winhealth.hk, or follow "Winhealth Pharma" on WeChat.
About Ajinomoto Cambrooke, Lnc.
Ajinomoto Cambrooke (formerly Cambrooke Therapeutics) was founded in 2000 by Lynn and David Paolella; It aims to "develop better nutritional treatment programs for patients with serious disease. " In 2017 CambrookeTM joined the Ajinomoto group based in Japan,was the first medical foods company to launch an intact natural protein for the dietary management of Phenylketonuria (PKU),to transform early phase development projects in therapeutic nutrition into viable commercial products,and supported by clinical evidence for the nutritional management of medical needs. The product portfolio CambrookeTM has also continued our geographic expansion to more than 20 countries,continually innovating new nutritious options targeted at a wide array of diseases.